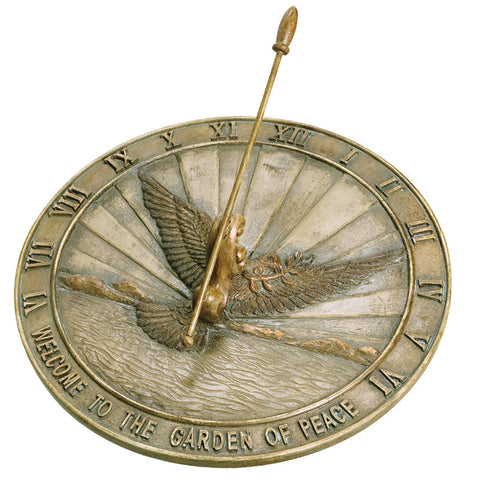 Cast Resin Peace Dove Sundial (#2176)
CLOSEOUT ITEM - LIMITED QUANTITIES
An iconic peace dove is the main visual element on this beautiful cast resin sundial design with woodcut style finish. The inscription, "welcome to the garden of peace" evokes the calmness and serenity we all seek.

The 12" diameter sundial is made of cast resin and then painted with to look similar to a hand finished wood cut. Cast resin is made by combining crushed stone with a bonding resin glue. It is poured into a mold of the dial and left to cure into a solid piece. The finish is made by applying several coats of paints to give it an antiqued feeling.
Cast resin, while popular for garden décor is an entry level material that will serve as a nice garden sundial, but is not heirloom quality. As with terracotta pottery, we suggest you bring your resin sundial indoors or in the garage during cold winters to prevent cracking. The finish is painted and will fade overtime.
This dial has been discontinued by the manufacturer and is being offered at a special closeout price.
Very limited quantities available


This Sundial Ships Free In The Contiguous 48 States

Click for information on shipping to the rest of the World



SIZE & MATERIAL INFORMATION

12" diameter
Cast Resin
woodcut painted finish



If attaching to a base from another company, be aware that on the bottom of the sundial there is a threading in the bottom of the dial that is 3/8" dia. which is designed for attaching to Rome pedestals. You may need to make changes to your base if it was not made by Rome.

For more info on how our sundials attach to our pedestal bases (click here) 

#2176 Peace Dove Sundial
Made by Rome Industries