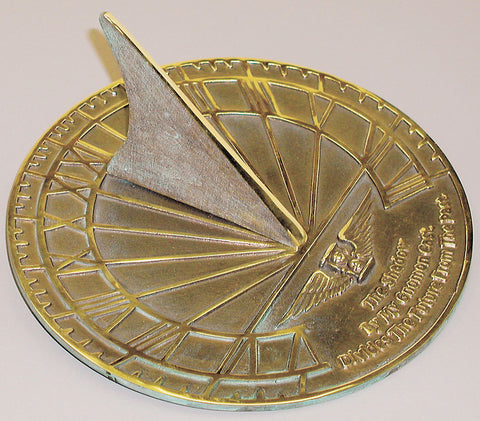 Solid Brass Hourglass Sundial 8.5" Dia. (#2347)
This solid brass design features the classic motto, "The shadow by my gnomon cast, divides the future from the past."

This item is no longer being manufactured and is hard to find. We have one piece left in stock. When it's gone, it's gone.

This 8.5" diameter sundial is made by Rome Industries using the ancient art of sand casting. To cast the dial, an impression of the sundial pattern is made into high quality sand designed specifically for brass casting. Molten brass is then poured into a hole in the sand that fills the mold. After cooling, the sand surrounding the sundial is removed and the finishing process begins.

The sundial is given a two-tone antique finish that has a nice contrast between the verdigris of the flat & recessed parts of the dial with the polished letters and raised features. The finish is hand buffed & polished which will make for slight variances in the antiquing and polishing from one sundial to another and are normal attributes of our artisan crafted sundials.
This brass dial will requires no care to further develop a rich natural verdigris patina finish over the years. Brass does not rust and is a perfect material for heirloom quality garden art.


This Sundial Ships Free In The Contiguous 48 States

Click for information on shipping to the rest of the World

Ships gift wrapped at no extra cost

SIZE & MATERIAL INFORMATION
8.5" diameter
Cast In Solid Brass
Verdigris finish with polished highlights
Attaches to all Rome pedestal bases

If attaching to a base from another company, be aware that on the bottom of the sundial there is a small stem/bracket cast into the mold that protrudes from the dial (measures 2" w x .5" ht). The stem is threaded to a 3/8" dia. for attaching to Rome pedestals. You may need to make changes to your base if it was not made by Rome.
Click for more info on how this sundial attaches to our pedestal bases.

#2347 Hourglass Sundial
Made by Rome Industries